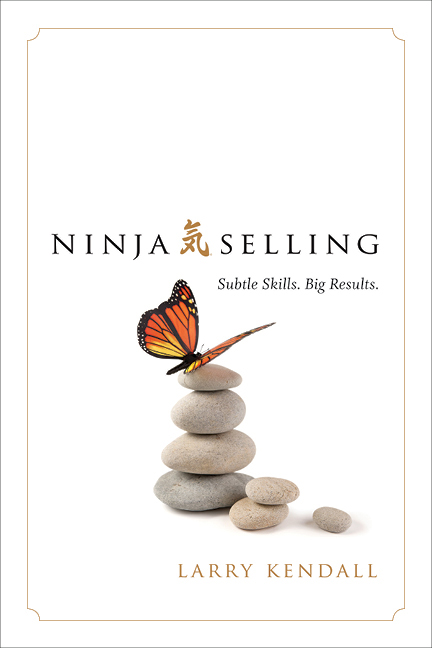 Ninja Selling Book
In Ninja Selling, author Larry Kendall transforms the way readers think about selling. He points out the problems with traditional selling methods and instead offers a science-based selling system that gives predictable results regardless of personality type. Ninja Selling teaches readers how to shift their approach from chasing clients to attracting clients. Readers will learn how to stop selling and start solving by asking the right questions and listening to their clients.
Ninja Selling was written very differently than most other sales books. Rather than starting with a book then creating a course around the material, Larry Kendall wrote Ninja Selling over 20 years after the first Ninja class was taught.
Shortly after its original release in 2017, Ninja Selling received a gold medal at the Axiom Business Book awards. It has also been named an Amazon Best Seller in the Sales book category and has 926 five-star reviews on Amazon.
Hear What Readers Are Saying
I am a managing broker for a large office and selected this book for our office book club. The author provides easy to incorporate steps in building your business through building and maintaining relationships. When I affiliate new associates I ask them as part of their initial orientation to purchase the book. Our office is executing on the principles in the book as by meeting each week and reviewing select chapters and committing to execute on a plan of action.

– Julia Stander, Tampa, Florida

In Ninja Selling Larry outlines the Ninja System that is easy to understand, use, and TSW ("this stuff works!"). Several advantages included in Ninja Selling are NEVER COLD CALL again; work with people who know you, like you, and trust you; and if you use the tools of Ninja Selling you will not only dramatically improve your business results, you will become a better person with improved personal and professional relationships ! I highly recommend the Ninja Selling book!

– Dr. Eric Holsapple, Fort Collins, Colorado

Being in sales for the majority of my career I do a lot of reading to master my profession. This has become my #1 book as far as professional selling is concerned. It set the bar up where is should be, with client and integrity, first and foremost. Thank you Larry Kendall.

– Deborah Taylor

I recommend this book to all my friends going into real estate. Read this book first .

– Laura Caves, Knoxville, Tennessee